Expat Survival Series: What to Bring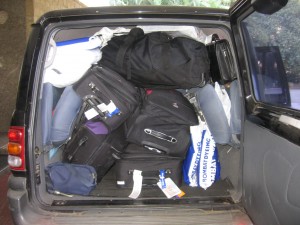 With the dawn of a new year on the horizon, what better time to consider a monumental, scary-yet-rewarding life change, such as selling all your furniture on Craig's List and moving to the other side of the world?!  If this is something that strikes your fancy, there are many things to consider when putting together your pack list.  Although lists of what to bring can often be found on websites and in books, there were numerous items of great importance (to me, anyway) which other authors completely failed to mention.  Here is my best advice on unique items to pack.  This post is primarily geared towards Western women (who follow a standard diet) moving eastward and/or to less-developed terrains than their starting point, but I think that at least a portion of my advice can be useful for anyone moving to a land foreign to their own.  If there is any interest, I could also do a vegan-specific moving abroad post (with an emphasis on a raw food diet and lifestyle).
BEAUTY – If you are setting up a homestead in a land where no one looks like you, it would be a good idea to bring a couple of boxes of hair color, lest you be facing rows and rows of black (and that is it!) at the local shops.  Many 5-star hotels have salons with a color stash, however, services will be outrageously expensive, and there is a good chance that the stylist won't have much (or at least any successful) experience in coloring hair, let alone fine, straight, light hair.  If you are looking for natural toiletry products, you just might be looking forever, because in many places they do not exist.  If you cannot live without your favorite acne wash from Sak's, or your must-have frizz tamer spray from Aveda, you best be toting it with you.  A few suggestions to get you thinking:
Hair color (blonde/red/light brown), hair pins/clips of the same color

Favorite toiletries/natural products (hair care, skin care, dental care)

Dermatological lotions and potions

Make-up in your skin tone

A popular item among female British expats in India (who I call 'the orange people'): fake spray tan.  I can tell you, you will most definitely not find this item for sale in India!
HEALTH – Looking for tampons?  Well, you might be wasting your time, 'cause in some countries, tampons are not available!  In addition, unless you want to wear a pad the size and thickness of Depends for old timers, it might be a good idea to bring a kit of your favorite monthly products.  Let me also squash any hopes you have of finding organic/chlorine-bleach free versions as well.  While you can certainly find an impressive slew of medications at the local pharmacy stall (two for one special on Accutane and Viagra, anyone?!), it is always possible that the daily tablet you need to prevent yourself from having a grand mal seizure is not available in-country.  If you are unable to verify if your vitamin or drug of choice is on the market at your final destination, I strongly urge you to consider bringing a backpack load of it with you.  Consider bringing:
Feminine hygiene products

Vitamins and supplements

Ibuprofen (completely unavailable in some countries)

Important medications

Sore throat spray (e.g., Cloraseptic)

Disposable heat patches for menstrual cramps, back aches, etc.
HOUSEHOLD – If moving to a tropical locale, your will be under constant threat of attack by humidity and insects with a varying number of legs/appendages.  To protect things like your food, important documents and jewelry, air tight storage is a must.  Pack some containers and Ziploc bags to get your going, in the event that you cannot find them after you get settled.  FYI – insects apparently have a high affinity for cornmeal!  Also, it is highly unlikely that you will be the proud owner of an electric dishwasher in your apartment, however, if the kitchen gods decide to show you good favor, it is entirely possible that you will not be able to purchase the detergent!  Yes, folks, apparently, in order to torture wealthy expats who flaunt their dishwashers in the faces of those less fortunate, there is an elaborate scheme in place to keep them from actually being able to run the things!  So, just on the off-chance that you will be blessed with a dishwasher, make sure to throw a couple of boxes of Ecover dishwasher tablets into your duffel bag.  If you end up without the machine, you can use your newfound popularity to sell those suckers to other expats, or to trade up for a much-coveted bag of chocolate chips or a block of Velveeta!  As with beauty products, natural cleaning products may very well not exist, so be prepared to either make or pack your own.  Attention American bakers: cupcakes are U.F.O.s (Unidentified Foreign Objects) in much of the world!  If you must overindulge in cake at the first inkling of homesickness, pack yourself a muffin tin and some paper liners.  I won't mention the fact that you might not have an oven here…  Also bring any other favorite baking ingredients that you might need.  A bottle of non-alcoholic vanilla extract or a can of evaporated milk for making a pumpkin pie can go a long way in making you feel at home.  You might want to include:
Storage containers

Ziploc bags

Dishwasher soap

Natural cleaners

Single hole punch/3-ring binder divider sheets

Cupcake pans/paper liners

Baking stuff – vanilla, chocolate chips, mastika, evaporated milk

Health food items – 'superfoods', protein and green powders, staple foods for special diets (gluten-free, vegan, raw food etc.)

Sink plugs

Humidity patches/dehumidifier
REFILLS – If you are bringing anything which will require a refill, for the love of Pete, bring the refills!  We brought an American HP Laser Jet printer to India, and had to purchase a new Indian HP Laser Jet printer.  After moving to Thailand and realizing that Indian cartridges were not available on the Thai HP market, we had to purchase a Thai HP Laser Jet printer.  Apparently all HP Laser Jet cartridges are not created equal!  Learn from my mistake and save yourself time, money and several in-store emotional breakdowns and pack what you need!  Some ideas for brainstorming:
Printer toner cartridges

Make-up compact refills

Label maker tape

Weird-sized batteries (including those giant squarish ones)

Filters for anything

Pen/pencil refills

Non-disposable razor cartridges

Electric toothbrush brush heads
HOLIDAY/RELIGIOUS ITEMS – Unless you plan on bringing the entire contents of your crafting studio, you are going to need either pre-made greeting cards or the wherewithal to hunt down paper and paper-related accessories to make your own cards.  While you are away, life goes on for friends and family at home, and that life typically includes birthdays, marriages, births, graduations, etc.  So unless you want to spend the time hand making a "I Hope You Survive Your Adult Baptism" card, bring a handful of cards for all occasions when you pack your bags.  Don't forget sympathy (as someone will undoubtedly pass away while you are gone), goodbye/good luck (as someone who you befriend at your destination will undoubtedly leave before you do), get well, thank you, and some blank ones that can be converted into national holiday cards for your country of origin.  Be sure to keep track of important dates such as Mother's and Father's Day, if applicable, of which the date can vary from country to country.  A calendar from your home will keep you straight on this issue.  As far as holiday and religious festivals go, bring what you can reasonably carry or pack that will allow you to continue to celebrate in a way which is comparable to how you would in your home country, as, for example, August 15th in your adoptive home might just be known simply as August the 15th, and not the Dormition of the Theotokos, one of the most important feast days in my personal religious faith of choice.  Here are things you might want to have with you:
Greeting cards

A few holiday decorations and DVDs 

Paper or wooden icons or religious items

Prayer ropes or beads (or the materials to make them with)

Religious texts and reading material

CDs of religious services, music or meditations downloaded to your iPod

Ingredients for holiday/religious festival foods

Colored Easter egg dye (or special red dye for Orthodox Christians)
PETS – If you can't bear the thought of leaving kitty behind as you set out on your great journey, there are a few things that you need to take with you to make both of your lives more comfortable.  For example, in India, I never managed to find cat collars or covered litter pans, and flea meds (such as Advantage) for cats are not available on the Indian market.  Neither is diabetic cat food, which once forced me to make a 24 hr trip to Dubai solely to purchase Royal Canin Diabetic Formula.  Needless to say, Kevin was not thrilled.  Special medications can also be a problem.  Poopy was on bovine insulin in the US, was switched to human insulin in India, and most recently, changed over to swine insulin in Thailand.  Save yourself the time, money and hassle by bringing what you need (or leave the fur baby with a trusted loved one before you set off to a virtual or the literal Timbuktu).  Here are my recommendations for cats:
Cat collars

Covered litter box

Litter box liners

Flea medicines for cats (e.g., Advantage, Frontline, Revolution)

Insulin or other important medications

Wet food (can/tin food) for cats

Any special-diet items
CLOTHING – "Big girl, you are beautiful!" sings Mika.  Although this might be true, your new host country may not cater to the woman who is larger than average in either height or girth, particularly if new country is full of tiny people (either due to phenotype or lack of adequate childhood nutrition).  Although you can most likely have garments tailor-made, the little, old man with his antique, black metal Singer machine might not be able to rival the support provided by the experts and a million-dollar R&D team behind Adidas shock absorber sports bras for 40DD ta-tas, for example.  Items to consider importing:
Large-sized bras

Underwear

Shoes, especially fancy heels

Women's business suits

Swim suits

Work-out clothing

Maternity clothing

Belts
At this point, some of you might be saying, "There is no way I will be able to fit all of this in my Eastpak backpack."  Well, if you are sending over your prized possessions in a shipping container, you'll be golden.  If you are not so lucky, prioritize your needs in a hierarchical list, and then bring as much as you can of the most important items.  Think about how large a supply of the necessary items you will need to last you through until either someone comes to visit you from your motherland, or until you expect to return to familiar civilization yourself in order to re-stock.
I expect to update this post as more things come to mind, so please check back if you are planning on running off into the wild, blue yonder anytime soon. 
In the meantime, what items do you feel are essential for successfully surviving (and thriving!) in a strange, new environment?