Mastiha-Chamomile Ice Cream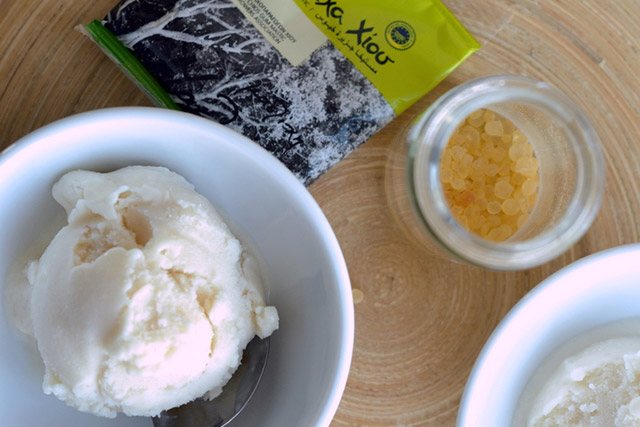 Known to the Greeks for centuries as an edible anti-inflammatory and anti-microbial, the sap from the mastiha (mastic) tree, only grown on the Aegean island of Chios, has found its way into desserts, savory food, beauty products, pharmaceuticals and even chewing gum, but is for the most part little-known in Western countries.  With a unique flavor that you will either love or hate, a little bit of mastiha goes a long way, and imparts a herbal essence which gently lingers on the tongue.  This raw, vegan chamomile ice cream (free from milk, eggs, preservatives, artificial ingredients and white refined sugar) is easy to make at home, and brings a little bit of Chios into your kitchen, no matter where across the globe you might be living!
Ingredients:
2 cups fresh Thai young coconut meat (or raw cashews or macadamia nuts, soaked 4hr)
1 1/2 cup filtered water, slightly warmed
1 chamomile tea bag, or dried chamomile plant stalks
1/2 cup raw agave nectar (or raw honey for a non-vegan version)
2 tbs mastiha powder (or crush mastiha 'tears' into a fine powder)
1 tsp vanilla extract or the scrapings from ½ vanilla bean
1 tsp lemon juice
1/4 tsp Himalayan or sea salt
Instructions:
Steep chamomile tea bag or chamomile plant stalks in the warmed filtered water overnight.  Strain to remove bag or chamomile plant pieces.  Place all ingredients into a high-speed blender and blend until smooth.  Pour resulting mixture into electric ice cream maker and process according to machine's directions, until mixture solidifies.  Place in a sealed container and store in the freezer until ready to serve.
*Mastiha can usually be purchased at Greek or Mediterranean grocery suppliers, or ordered online through a distributor of The Chios Gum Mastic Growers Association here.