Creating a Human: 14 Weeks – Da' Crib!
I will try not to bore you with endless pregnancy stories, but have decided to do a weekly re-cap of events, developments (both biological and otherwise) and gained knowledge. Please feel free to skip over these posts if you are not interested! Catch up on the whole series here.
I had an 'oopsie' moment and accidentally deleted some blog photos off the camera before I had downloaded them, so this week's photos are a bit sparse!
The BabyCenter phone app told us that at 14 weeks, the embryo was now the size of a lemon: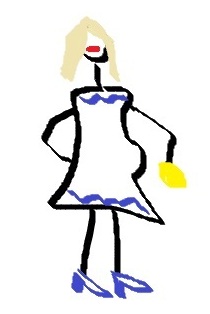 *Dress, shoes: Microsoft Paint Maternity*
You may happen to notice fom this lovely drawing that I finally had my hurrs did (no more roots!)! Yipee for cut and color! If you are in Thailand and looking for an expat stylist who speaks English and knows how to deal with non-Asian hair (and especially color!), check out James Mac. He used Chi color by Farouk on me, which is ammonia-free.
Symptoms of the Week: I have continued my wild up and down ride. Up means functioning and somewhat upbeat, down means bad nausea that puts me on the couch or in the bed. Monday was great, but most of the rest of the week I was struggling.
Purchased: Kevin had Monday off for Coronation Day, so we made the trek to Ikea Bangna! Ikea has been open in Thailand for about 6 months now, and it is a great place to find inexpensive glass containers for storing nuts, superfoods, etc. I had been stewing over the fact that new cribs in the department stores and baby shops were well over $1,000, and the few used ones that had popped up on the Bambi website had drop-down sides, which have been banned in the US over safety concerns. As we certainly can't carry a crib back from the US, we decided to go the inexpensive route for now. The baby will be in our bedroom for a good while anyway, so we don't need a fancy nursery (and don't have the room for one at the moment – more on that issue in a future post) or a lot of furniture at the moment, but I do want to have a place I feel is safe to lie him or her down for a nap unattended while I potter around the apartment cooking and cleaning during the day.
Although the Gulliver had great reviews all over the blogosphere, we ended up going for this one: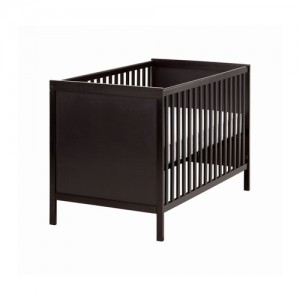 The Sundvik! It does not have drop-down sides, but one side can be taken off so you can sidecar or use it as a day bed of sorts when the child is older. I don't know how long this will last us, but at US$196 for the crib and mattress, it was a good deal. It also matches the rest of our furniture, which is a dark black-brown color. I'm all for matching around here!
What the heck is going on in there?:  (from BabyCenter): "Your baby can now squint, frown, grimace, pee, and possibly suck his thumb! Thanks to brain impulses, his facial muscles are getting a workout as his tiny features form one expression after another. His kidneys are producing urine, which he releases into the amniotic fluid around him — a process he'll keep up until birth.
His body's growing faster than his head, which now sits upon a more distinct neck. By the end of this week, his arms will have grown to a length that's in proportion to the rest of his body. He's starting to develop an ultra-fine, downy covering of hair, called lanugo, all over his body. Your baby's liver starts making bile this week — a sign that it's doing its job right — and his spleen starts helping in the production of red blood cells."
Currently Watching: The Business of Being Born. Kevin and I watched this documentary, which champions home birth. I thought it was slightly harsh towards hospitals in general, but I did enjoy peeking into the world of home birth, and perhaps it softened Kevin up to the idea (no certified midwives in Bangkok yet, though).