Four Stops in Hong Kong for the Hip and Health-Conscious (+ A Giveaway!)
You've got the The Peak, the harbour, afternoon tea at The Peninsula…, but what else is there to do and see in Hong Kong that you might have missed, especially if you are a young and hip health-seeker? Check out these four places to augment your standard tourist trip to this city which blends the east with the west:
1. Life Cafe – While this joint seems to cater to the hippie crowd, make no mistake – the food is beyond good! With raw and cooked vegan and vegetarian options galore, you very well may find it difficult to decide what not to order. Located about midway up the world's longest escalator, be sure to pop in for a relaxed lunch or dinner in a bohemian atmosphere. There are also take-away options for a quick snack on the run, and a small grocery section with Yogi Teas (a big deal for those of us living in Yogi Tea-less countries), organic produce, artisan breads, organic grains, and various drinks and snack bars. If we lived in HK, I'm pretty sure I would be here as often as possible!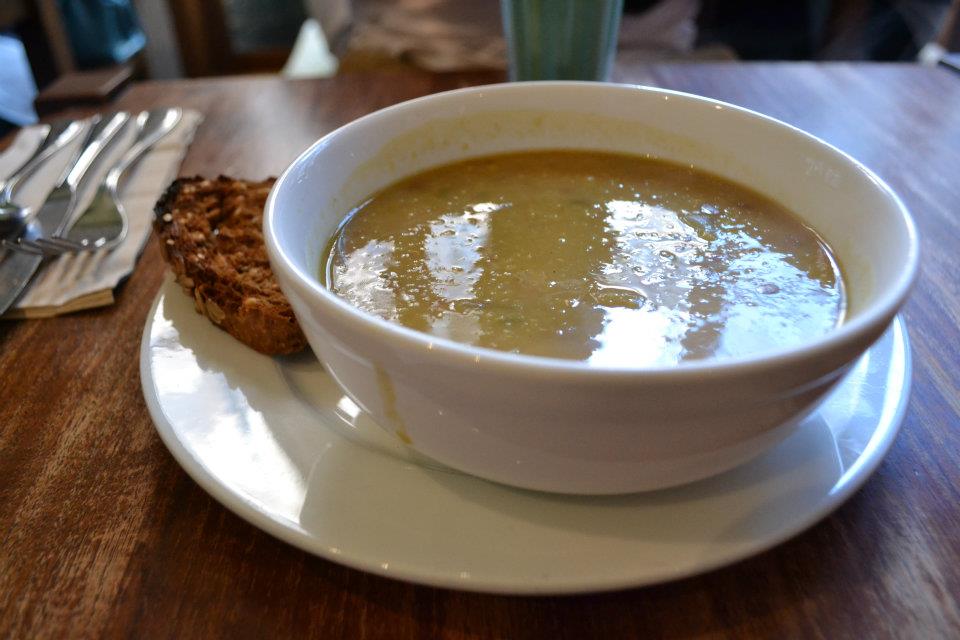 Daal with Sunflower Seed Bread – this was so darn flavorful, and not spicy at all – good for sensitive stomachs like mine!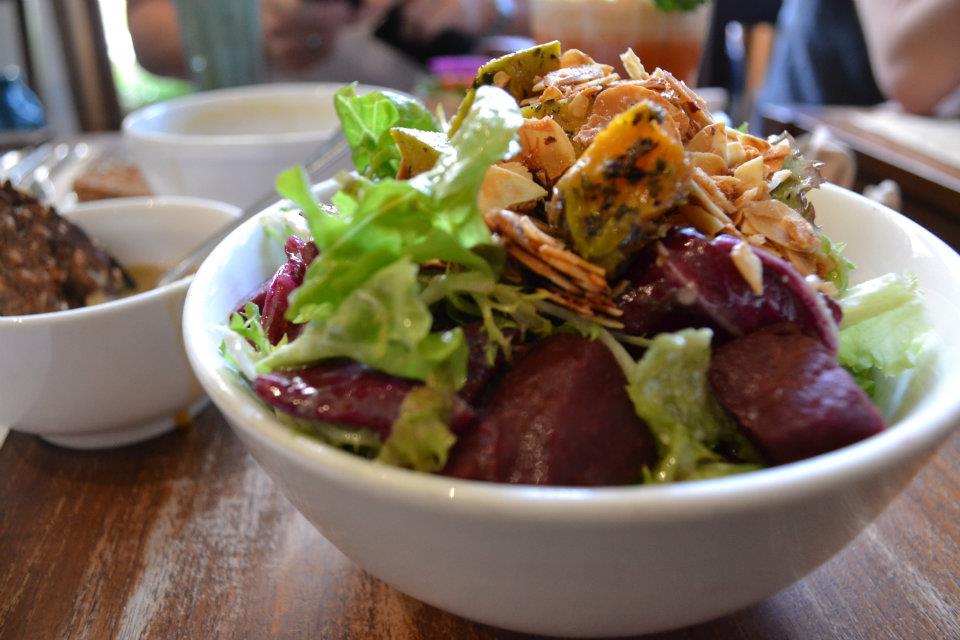 The Beetnik Salad – Raw veggies with cooked beet root and toasted almonds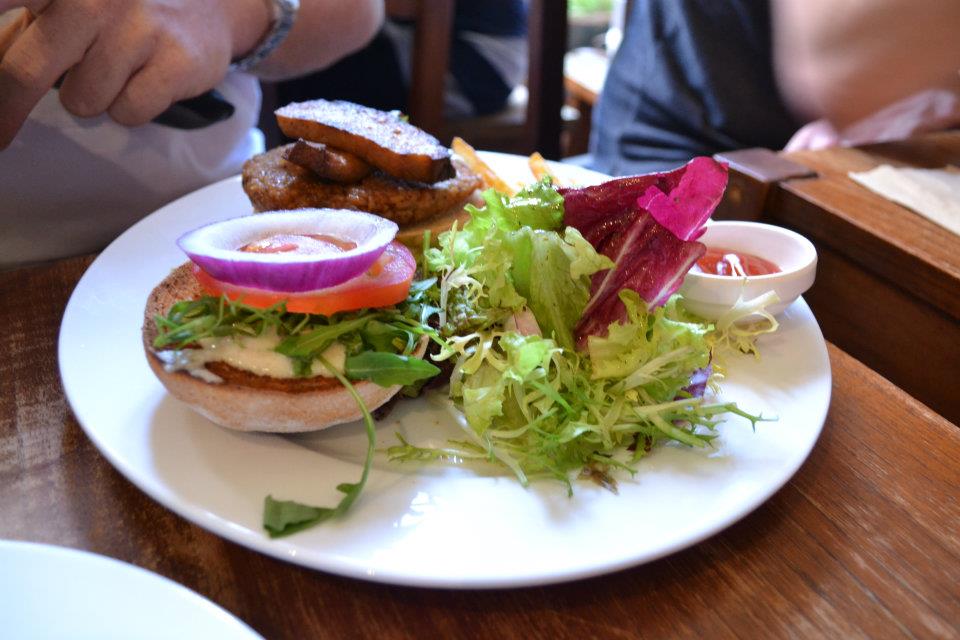 Organic Veggie Burger
2. Ovo Home – This ultra modern furniture and home accessories boutique offers a unique array of items, many of them made from natural materials formed into unexpected shapes and repurposed for unexpected uses. From stools you aren't sure if you should sit on, to tissue boxes covered in grass, to unique lighting and art pieces, this shop, located on Johnston Road, will have you talking, even if you can't fit a giant ceramic statue into your suitcase!
3. Ovo Logue – Located next door to Ovo Studio, this tucked away restaurant with green shutters will have you feeling as if you are in old world China the moment you walk through the front door. The sophisticated interior is a mix of western modernism with plenty of eastern charm, and even a trip to the toilet is an interesting experience in Chinese design sensibilities. While this is certainly not a vegan or vegetarian establishment, there are veggie options on the menu, and the staff will be glad to help you with any confusion over ingredients. Traditional, old-fashioned (in a good way) ceramics for serving add to the quaint atmosphere and make this a great place to catch a meal and some quiet time with your companion(s).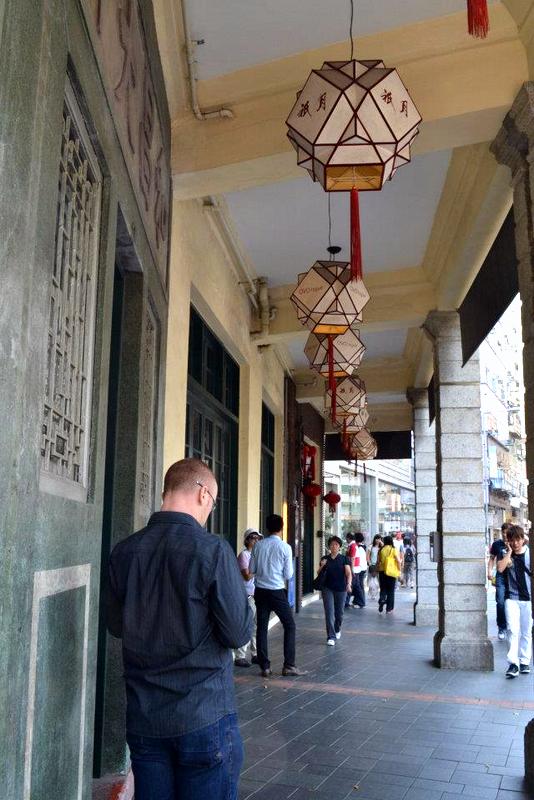 Outside Ovo Logue, Johnson Street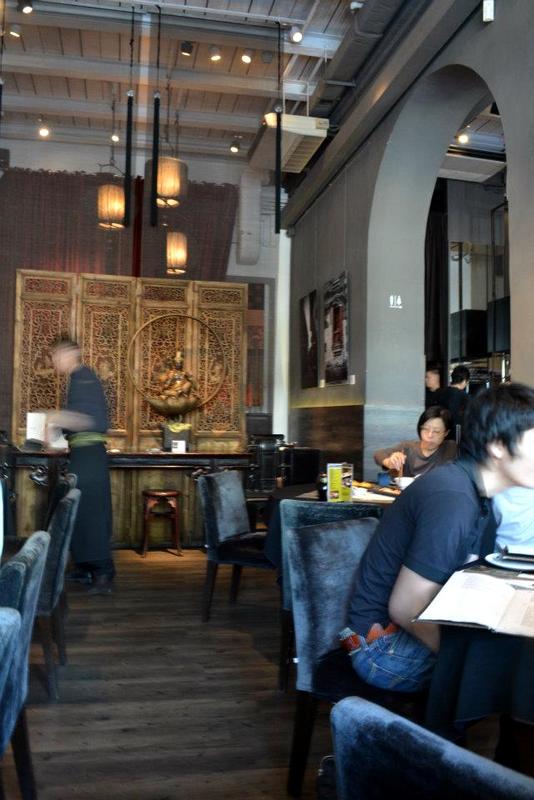 Inside Ovo Logue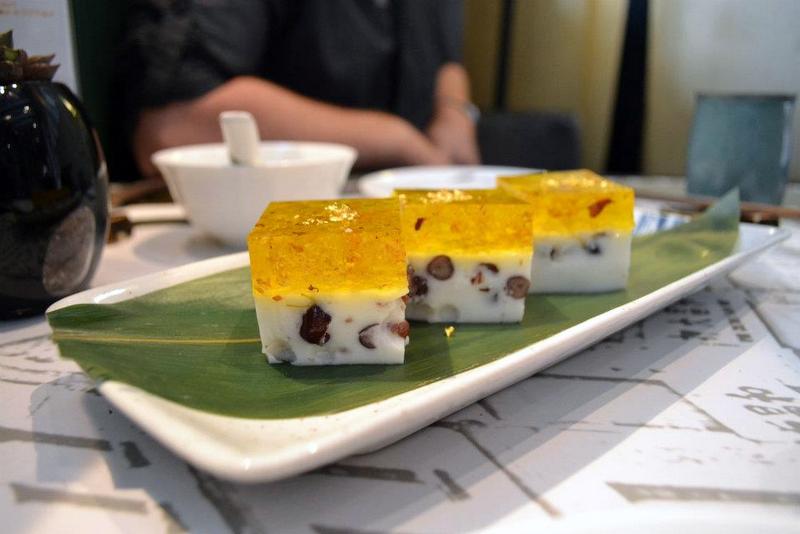 Red bean curd with some sort of flower gel (made with agar agar)
4. Just Green – This is the crème de la crème of health food shops in the East! With all the brands you would find back stateside, you can pick up your Sunwarrior protein powder, Garden of Life vitamins, famous-name personal care products, toiletries, and grocery staples. Do not miss this place! They even have an impressive selection of Navitas Naturals superfoods such as cacao power and butter, mulberries, hemp seed, maca, acai powder – the list goes on. If you are coming from a country where this stuff is nowhere to be found, be sure and make a special trip to this shop and then unload your spoils in your hotel room before planning on doing anything else. We stumbled upon this place by accident on our way up to The Peak, and ended up lugging bags of heavy goodies around for the rest of the afternoon and evening (including through a crazy fiasco getting lost on our way back to our hotel in the wee hours).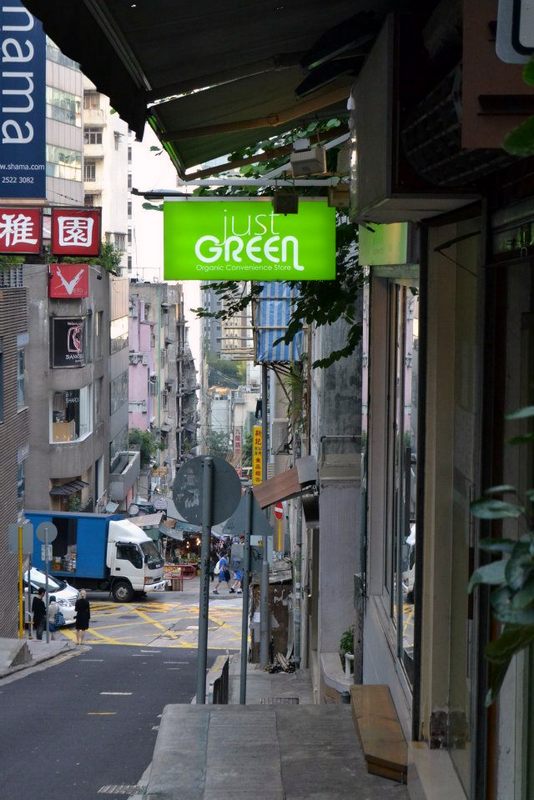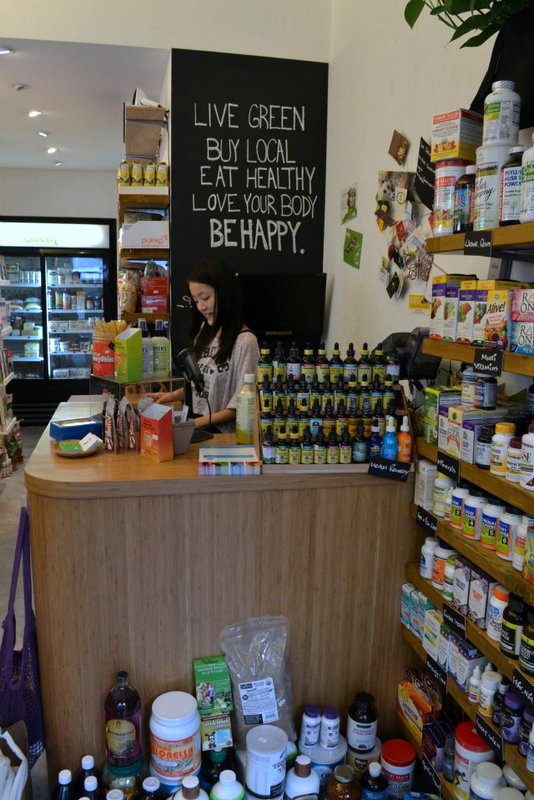 Now that you've gotten a glimpse of healthy, hip Hong Kong, on to the giveaway!
I have two copies of Hilary Greenleaf's new raw food ebook to give to two readers – either a pdf, ibook or Kindle version – take your pick!
Here's how Hilary described the ebook: "New Raw Food Diet: Going Raw the Fun and Easy Way goes over the basics of starting a raw food diet.  It covers basic equipment, the benefits of going raw, and tips to make the transition painless.  It gives a wide variety of recipes, including breakfast recipes, main dish recipes, dessert recipes, and a meal plan for the first week."
You have 4 ways to enter:
1. Leave a comment below on this blog post.
2. "Like" our De-hydrated – Modern Living Cuisine raw food Facebook page, and come back here and leave a comment saying you did so.
3. Join the email list over at www.de-hydrated.com (top right of home page) and come back here and leave a comment saying you did so.
4. Leave a comment on one of the recipe posts over at the De-hydrated recipe blog and come back here and leave a comment saying you did so!
*Note: for each of these options you do, you must come back here and leave a separate comment to say that you have done them, so that I can enter your comment number in a random number generator drawing. The winner will be chosen and announced on Friday, July 27th at 9:00am Bangkok time.