Strawberry Valentine Tart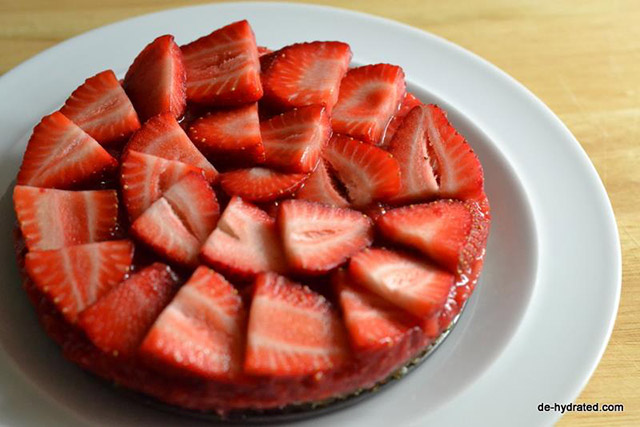 This healthy tart is incredibly easy to make, and can be enjoyed as a breakfast, snack or dessert. Try it with fresh peaches in place of the strawberries when they are in season.
Crust Ingredients:
2 cups raw (unsalted, unroasted) nuts (e.g., almonds, walnuts, macadamia nuts)
Scrapings of ½ vanilla bean, or 1 tsp non-alcoholic vanilla extract
¼ tsp Himalayan or sea salt
1 cup dates, pits removed
2 tbs cold-pressed coconut oil
Crust Instructions:
Place the nuts, vanilla bean and salt in a food processor fitted with the 'S' blade and process until nuts are in small pieces. While continuing to run the processor, drop in dates one at a time, followed by coconut oil, and process until evenly mixed. Place mixture into a bowl and set aside.
Fruit Filling Ingredients:
2 cups fresh strawberries
2 tbs liquid sweetener (coconut palm nectar, raw agave, raw honey, maple syrup)
1/2 tsp lemon juice
Fruit Filling Instructions:
Using either a high-speed blender or a food processor, blend or process all ingredients until a jam- or jelly-like consistency is achieved.
Topping Ingredients:
1-2 cups fresh strawberries, sliced
To Assemble:
Press crust into pie pan (preferably with removable bottom). Spread filling evenly on top of crust. Top with sliced strawberries (arranged in fan-like pattern, if desired), cover and refrigerate until chilled or overnight. Will last for approx. 3 days.