Nutter Butter Date Snacks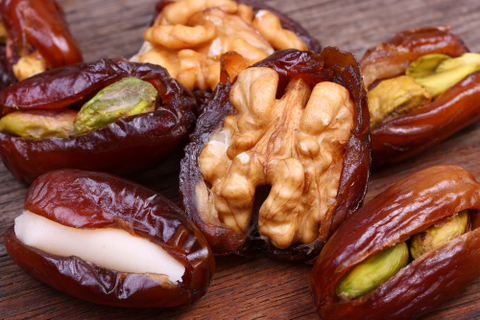 Fruit and nuts are the perfect snack and deliver carbohydrates, protein and good fats to keep your little ones' tummies (and your own!) full. These date snacks are both delicious and portable, so you can easily take them on the go to work or to school.
Ingredients:
Medjool dates
Raw nut butter of choice (e.g., cashew butter, almond butter) or raw nuts (whole or halves)
Instructions:
Slice open one side of the date with a knife, spread the flesh apart and remove the hard pit inside of the date. Using a spoon or your clean hands, fill the date with the nut butter of your choice, or with a large nut. Close the date back up and store in an air-tight container at room temperature or in the refrigerator (for nut butter-stuffed dates). Will last for several weeks.
*For toddlers who are not yet able to thoroughly chew whole nuts, use nut butter.