Zucchini Hummus Dip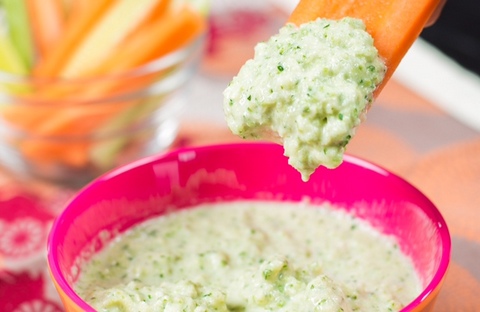 Although raw hummus can certainly be made with soaked chickpeas (or even nuts), I personally find them a bit starchy and difficult to digest. This bean-free, nut-free veggie version is a light snack that can easily be packed in a lunch with some raw crackers or vegetable crudités to-go.
Ingredients:
1 large zucchini (courgette), roughly chopped
⅛ cup raw tahini
1 large clove of garlic
3 tbs lemon juice
2 tbs cold-pressed extra virgin olive oil
½ tsp Himalayan or sea salt
Instructions:
Place all ingredients into a food processor or blender and process until smooth. Add filtered water only if needed to blend. To serve, drizzle with additional olive oil and sprinkle with cayenne pepper, sundried tomatoes, parsley and/or olives. This Zucchini Hummus Dip will last in the refrigerator for approx. 4 days.
Image by Jonathan Raho.