Maple-Spiced Candied Walnuts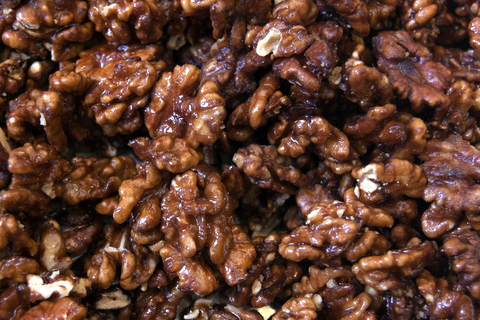 Candied walnuts are simple to make, and can be prepared in large batches, with the finished products stored in jars on the counter for easy use on top of both cooked and raw cereals, in snack mixes, and on top of almost any dessert, both for flavor, texture and as an attractive garnish. Just try to not eat them all straight out of the dehydrator, which is quite easy to do!
Ingredients:
1 cup raw walnuts (unsalted, unroasted)
⅛ cup maple syrup
⅛ tsp allspice or ¼ tsp cinnamon
Pinch of Himalayan or sea salt
Instructions:
Mix all ingredients in a bowl until the nuts are evenly coated with the maple syrup and spice.  For dry nuts, spread on a dehydrator tray lined with a non-stick sheet and dry at 40°C (105°F) for approx. 24 hr, stirring a few times to ensure nuts are still evenly coated with the syrup-spice mixture.  Remove when dry and store in an air-tight container.  Nuts can also be dried on a cookie sheet in an oven set to the lowest temperature setting with the fan on.