My New Year Goal Planning Worksheet
Since we got married 7 years ago, we have endured, accomplished, experienced and celebrated so many things that we never thought would have been possible (and not all of them good things). When I reflect on all that we have been through, at least 50% of those things were not even on our radar screen far enough ahead of time to give us an advance warning. However, saying that, the other 50% were carefully planned and executed, often with a lot of blood, sweat and tears involved. I really like the mix of having concrete expectations as a family to work towards, while still being free to see where the good Lord takes us, so-to-speak.
How do we stay on-task to grow in the important aspects of our lives while simultaneously managing all of the little day-to-day things that need our attention?
This. My new year goal planning worksheet: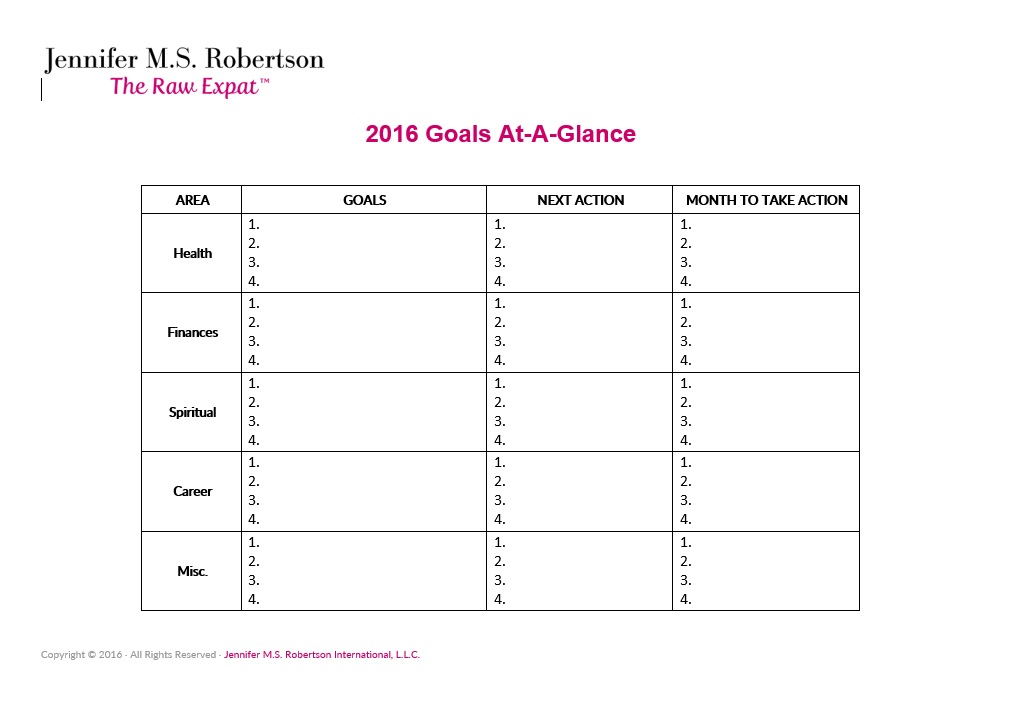 Download here now: JenniferMSRobertson.com – New Year Goal Planning Worksheet
Each year at the end of December, I coerce Kevin to sit down with me and attempt to plan out our main goals for the coming year. We discuss both personal goals we each have, as well as things we would like to achieve together as a family unit. The first couple years I did this, we didn't do a very good job of reviewing our worksheet periodically, and many of the goals were therefore neglected until we ran out of time, only to have them be re-listed the following year. Once this was recognized as an issue, I started bringing out the worksheets quarterly to assess our progress. At my most advanced stage in this system for life improvement, I now have a column to include the month in which each goal or achievement should be tackled.
Here's a quick run-down on how this works, but don't stress too much – it's quite simple.
Go down the first column (AREA) and familiarize yourself with the specific goal categories I have included. If you see one that does not apply or you would like to add a new one, feel free.
In the second column (GOALS), list 2-4 things you would like to develop, improve, accomplish, etc. in the new year.
In the third column (NEXT ACTION), list the general action(s) needed to get you there. Just short answers are fine. For example, if one of your goals for Finances was to start saving money, you might list, "Open savings account. Set up automatic transfer from checking for X amount monthly."
In the fourth column (MONTH TO TAKE ACTION), list the month you want to complete the actions and/or achieve the goal. Make sure you don't have too many in one month – spread things out along the year. If you finish early or one task becomes more urgent, you can always edit this. I like to do some "easy wins" (things which don't take too much time, money or emotional pain) in January, as feeling like I have accomplished something right out of the gate gives me the emotional and mental momentum to continue.
Set a time at the end of each month (this can be 5 minutes) to review your progress and plan for the next month. At this point, you can schedule appointments or tasks in your calendar to set you up for success. If anything was left undone that month, adjust your chart accordingly to either delete the item (if the goal is no longer important to you) or move it forward to a future month.
I find this an easy way to live in the moment while still keeping the big things in mind for the year. For people who don't have the time or interest in making or filling out more complicated goal charts, this is a simple tool you might find useful. Printing the worksheet out each month and hanging it in a prominent place were it can be seen will serve as a daily or at least weekly reminder to get your butt in gear and make thing happen. I hope this might help some of you who are struggling with what direction to take in the coming year.