Green Tea Truffles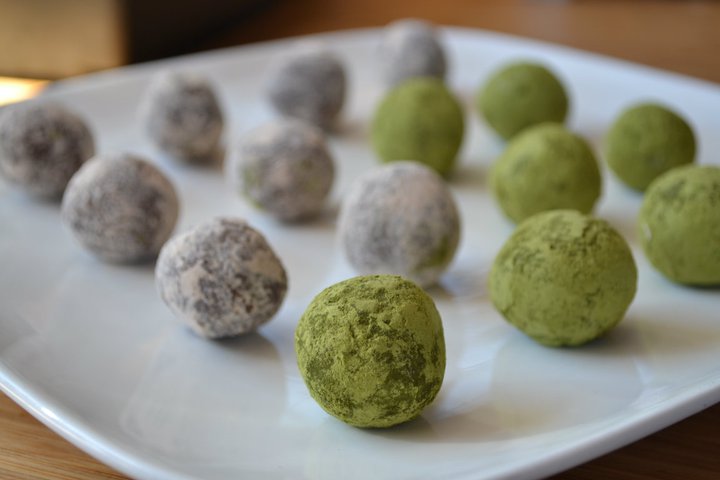 Japanese Kit Kat candy bars come in numerous unique flavors, to say the least, one of which is green tea.  I never would have imagined how good the combination of green tea and white chocolate would taste until I first made these Green Tea Truffles.  If you are not a fan of green tea, you can always leave it out and have plain white chocolate truffles, or forgo the 'white' and add in cacao powder for a traditional chocolate version.
Ingredients:
¾ cup raw cashews (unroasted, unsalted), ideally soaked for 2-4 hr
½ cup agave nectar, maple syrup, palm syrup or raw honey*
⅓ cup melted cacao butter (or ⅓ cup cold-pressed coconut oil, as a substitute)
¼ cup filtered water
3 tsp matcha green tea powder
½ tsp vanilla extract or a pinch of vanilla bean powder
¼ tsp lemon juice
⅛ tsp Himalayan salt or sea salt
*Honey is a non-vegan sweetener choice.
Instructions:
Place all ingredients except the cacao butter (or coconut oil) into a high-speed blender or food processor and blend or process until smooth (if using processor, you will need to stop the machine and scrape down the sides periodically to ensure all items are incorporated and evenly mixed).  Add in the cacao butter or coconut oil and blend until fully incorporated. Pour mixture into a shallow bowl or pan and refrigerate for approximately 1 hr until firm.  Roll "batter" into individual balls approximately 1 in (2.5 cm) in diameter.  Store green tea truffles in the refrigerator until ready to serve. If using coconut oil instead of cacao butter, truffles will soften quickly at warm room temperatures.
To our health!