About
If you're looking to change the way you eat, I can help!
Do any of these sound like you?
I've heard about raw food but don't know where to start.
I would like to eat more plant-based food, but I feel like I won't be able to eat anything that tastes good!
I don't have time for raw food – end of story.
I want to be healthy, but I could not live without cheese and chocolate.
I'm a busy mom and/or wife and don't know how to manage keeping us healthy and fed without stressing out.
I have a baby and care about his/her health, but don't know where to start with eco-lifestyle choices.
I am vegan and/or gluten-free, and can't find anything to eat where I am living.
There's no way I can stay healthy while travelling or living overseas.
I'm an expat and need to get my household in healthy order!
If you shouted "yes" to any of the above, you are in the right place! My mission is to help give you the tools to get your life in order, thrive on a plant-based diet, and have a healthy home, whether you are a family of one or of many. In a nutshell, I teach women how they can easily live healthy every day, whether it is turning their households into a people- and planet-friendly nest of well-being, or showing them how to travel the world and live as an expat while effortlessly staying organized and eating nourishing foods on the road instead of travel junk food. I have a passion for all things raw and vegan, gluten-free and superfood. I can show you how to feed your family the best food available to you, without complication and no matter where in the world you call home. I'm passionate about the environment and sustainability, and only want the best for my family's home environment and health, so if you feel the same way, step on in to my digital HQ and make yourself at home!
What do I know about raw, vegan food?
I'm a trained raw food chef certified in the Fundamentals of Raw Cuisine (120 hour course) at Matthew Kenney Academy (formerly 105 degrees Academy) in the US, which was the world's first classically-structured raw and living foods education center. I've also successfully completed the Academy's Plant-Based Desserts program (25 hour online course). I have been teaching raw food preparation classes regularly in Bangkok for over four years now, and used to produce raw food and fermented drinks for resale (I'm on a hiatus from food production at the moment). I've also been a recipe tester for numerous published raw food books, including celebrity raw chef Ani Phyo's Raw Food Asia and 15-Day Fat Blast. I maintain an updated food safety certification (see here for current certificate).
What do I know about families, travel and being an expat?
After studying abroad (I've done two graduate degrees in Scotland), marrying a man from another country, and living in India and Thailand with my husband Kevin for the past six and a half years, I've learned how to run an eco-friendly household on my own without staff, and have successfully navigated healthy living in an unfamiliar place. In addition, I'm a proud crunchy mama to a toddler and have been learning the ropes of cloth diapering, baby led weaning, and how to maintain our travels and healthy habits with a baby in tow. I've transformed myself from a junk-binging single woman to a raw food prepping wife and mother, and I can help you to do the same, all while having fun and continuing to enjoy life!
What else do I do?
Away from the world of raw food, I'm a cephalopod biologist (translation: I study squid – yes, squid!), with both a Master's and PhD in marine science (yes – that means I'm technically Dr. Robertson!), and am an Honorary Researcher with the University of Aberdeen in Scotland. I'm the very organized, analytical type. I'm an Eastern Orthodox Christian (as in, My Big, Fat Greek Wedding movie), and spirituality is very important to me. I am also a Placenta Encapsulation Specialist (PES) under PBi (and yes, you read that correctly – see here for details if you're in Bangkok), and a co-organizer for the Bangkok Vegan Meetup Group. Social memberships include the British Women's Group of Bangkok, the American Women's Club of Thailand, and Annunciation Greek Orthodox Cathedral.
How can I help you?
Here's what I currently have to offer: My growing recipe blog showcases raw, vegan, gluten-free, grain-free and paleo-friendly recipes – give them a try and let me know what you think! My new ebook, Ice Cream That Everyone Can Scream For, is full of raw, dairy-free, and nutrient-dense ice cream recipes which I hope you'll love! There's no reason to feed your child (or yourself!) toxic treats, and no need to deprive yourself, either! Download my ebook and you can be whipping up decadent, healthy ice cream today! My raw food classes and events in Bangkok and beyond will give you the tools to make your own raw cuisine at home, and it's a fun and delicious way to spend a Saturday morning if you're in town! Check our schedule here. My family and lifestyle blog features travel info, household tips, and personal family musings, including must-see and dos of Bangkok. I'll have more ebooks, recipes and some life-changing programs and online classes coming up in the near future, so stay tuned for updates and free material you'll love (it's free to subscribe!)
Want to Connect?
Did you try a recipe? Have something to share about a post? I'd love to hear from you via comments on my recipe or blog posts! Wondering where we can link up? I hang out on Instagram, Facebook and Twitter when I'm not running after our toddler Fergus. Want to join my next raw food class in Bangkok, or another raw food event? Be sure to check out the Work With Me + Events page to see what's coming up next.
Professional Bio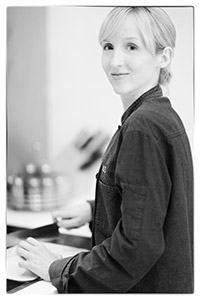 Jennifer M.S. Robertson is an American cephalopod biologist, trained raw food chef and educator, author and expat mother and wife, currently living in Bangkok, Thailand. In addition to blogging at JenniferMSRobertson.com, she teaches modern raw food preparation classes in Bangkok and is the author of a dairy and gluten-free raw ice cream ebook. Jennifer holds both Master's and PhD degrees in Marine and Fisheries Science and serves as an Honorary Researcher at the University of Aberdeen, Scotland. Her peer-reviewed literature has been published in journals such as Hydrobiologia and Aquatic Living Resources, and her health articles have been published on numerous natural living websites. Jennifer's mission is to educate women, particularly mothers, on how to create and sustain a healthy lifestyle, with a passionate focus on raw, vegan, and gluten-free natural foods.